Breadcrumb
1.1 Context statement for the Sydney Basin bioregion

The context statement brings together what was known about the geography, geology, hydrology and ecology of the Sydney Basin bioregion as of February 2017.
Geography
The Sydney Basin bioregion extends along the eastern Australian seaboard from the Hawkesbury River estuary in the north to Durras on the southern New South Wales coast. Covering approximately 24,625 square kilometres, its western boundary is defined by the geological Sydney Basin.
The population of the Sydney Basin is around five million, concentrated mainly within the Greater Sydney region, and 14% of the bioregion is urban land. More than 40% of land is used for nature conservation, and it is one of the most species-diverse regions in Australia.
Geology
The Sydney Basin is part of the greater Sydney-Gunnedah-Bowen Basin complex whose rocks are about 325 to 230 million years old, dating from the Carboniferous to the Triassic age.
The bioregion's major coal-bearing units were deposited during the Permian age, from 298.9 to 252.17 million years ago. These units are known as the Greta, Clyde, Illawarra, Wittingham, Tomago and Newcastle coal measures. The Western, Central and Southern coalfields are the main coal fields in the Sydney Basin bioregion.
Surface water and groundwater
The Sydney Basin bioregion includes all or parts of the Hawkesbury River, Shoalhaven River, Sydney Coast-Georges River, Clyde River-Jervis Bay, Wollongong Coast and Macquarie-Bogan river systems. The Hawkesbury river basin, which includes the Hawkesbury, Nepean, Wollondilly and Coxs rivers, dominates the bioregion.
The Hawkesbury and Shoalhaven river basins are important water supply catchments for the densely populated Greater Sydney metropolitan area. There are 18 major dams in the bioregion, ten of which contribute to Greater Sydney's water supply, while others meet the needs of Blue Mountains, Nowra and Southern Highlands communities. With a capacity of 2031 gigalitres, Warragamba Dam (Lake Burragorang) is the largest water storage and supplies about 80% of Sydney's water.
A small amount of groundwater is used in the bioregion. Locally there are important aquifers within the Hawkesbury Sandstone and Narrabeen Group and alluvial aquifers associated with present-day drainage networks and coastal deposits.
Ecology
The Sydney Basin bioregion features some of the highest levels of species diversity in Australia as a result of the bioregion's variety of rock types, topography and climates. It features a shale/clay basin surrounded by a sandstone plateau, as well as rolling hills and coastal alluvial plains.
It includes lagoons, estuaries and coastal lake systems, plus rainforests, wet and dry sclerophyll forests, and hanging swamps.
This diversity has led to more than 40% of the land being used for nature conservation with a large number of national parks, including the Blue Mountains, Wollemi, Kuring-gai Chase and Royal national parks around Sydney and the linked Morton and Budawang national parks to the south. A significant number of species are found within the parks and have a national, state or regional conservation status rating.
Last updated:
21 January 2019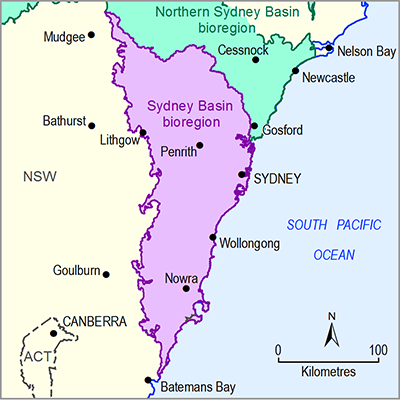 PRODUCT FINALISATION DATE