Breadcrumb
1.1.2.2 Human geography
It is difficult to put an exact figure on the population of the Gwydir subregion as the area does not align well with the more usual reporting areas (natural resource management region, local government area (LGA), statistical local area, etc.). The Moree Plains LGA, which is almost completely contained within the subregion, has a population of about 14,000 and the Gwydir LGA, of which about 50% is in the subregion, has a population of about 5,000 (ABS, 2011). Therefore a reasonable estimate of the subregion population is about 16,500. The wider NSW Border Rivers and Gwydir river basins have a population of about 65,000. The largest town, Moree, has a population of 7720, while the smaller urban centres of Warialda and Boggabilla have populations of 1120 and 625, respectively (based on Urban Centre Localities, ABS 2011). Population densities range between 0.5 and 0.8 persons/km2 in the Gwydir and Moree Plains LGA, respectively.
In the 2011 Population Census (ABS, 2011), 3.8% of the Gwydir LGA and 20.8% of the Moree Plains LGA populations indicated they were Indigenous.
In common with many rural communities across Australia, the region is experiencing an ageing population and an overall, long-term population decline, particularly in smaller centres. Greater production efficiencies have been realised through technology advances, which have helped to offset the effects of declining terms of trade and increasing input costs, and better farm equipment has led to reduced labour requirements. The net effect has been reduced employment opportunities on-farm and in farm service industries. Population decline has resulted in a reduction of services and facilities in the region's towns (Border Rivers-Gwydir CMA, 2007). Issues for the Border Rivers-Gwydir regional community are declining profitability from farming due to rising costs of farm inputs and increasing environmental and agricultural weeds, reduced employment in agriculture and declining populations in rural areas more generally (NSW DECCW, 2010e).
Table 5 summarises the main sectors of employment for the subregion (based on Moree Plains and Gwydir LGA data). Close to 30% of the employed population works in agriculture. Retail, health care and social services, education and training, and public administration and safety account for another 32%. Mining accounts for 0.3% of regional employment.
The gross value of agricultural production in the NSW Border Rivers and Gwydir river basins in 2010 to 2011 was estimated at $1.43 billion, of which $570 million (41%) was from cotton, $557 million (40%) from cereal and legume crops and $260 million (18.5%) from livestock products (ABS, 2012).
Regional tourism figures for the New England North West region (DNSW, 2013) report that visitors to the region in 2012 contributed $784 million to the regional economy. The reporting region for this figure is considerably wider than the subregion and includes the Namoi river basin and the Upper Gwydir, in which towns like Armidale, Glen Innes, Inverell and Tamworth would command a significant proportion of that revenue. The Moree Plains LGA averaged $36 million/year for the four years to September 2011 (DNSW, 2013).
The self-mulching black soils of the lower valley are well suited to irrigated agriculture. Irrigation development has occurred rapidly since the early 1960s, and 2150 km2 are now used to grow crops such as cotton, cereals and oilseeds. Most of the summer crops such as cotton are irrigated, while much of the winter demand is met by rainfall (Green et al., 2011, 2012). Cropping occurs on 51% of the land, of which just over 7% (215,000 ha) is irrigated cropping. A further 35% of the subregion is used for grazing on natural and modified lands. Production and plantation forestry and conservation and other natural environments occur over 9% of the area. Table 6 summarises land use by area in the subregion.
Table 5 Employment profile for Gwydir subregion, expressed by sector as percentage of employed



Industry

Moree Plains LGA

(%)

Gwydir LGA

(%)

Combined

(%)

Agriculture, forestry and fishing

26.0%

38.8%

29.3%

Mining

0.3%

0.4%

0.3%

Manufacturing

4.5%

3.1%

4.1%

Electricity, gas, water and waste services

0.9%

1.3%

1.0%

Construction

5.6%

3.8%

5.1%

Wholesale trade

3.1%

3.0%

3.1%

Retail trade

9.6%

7.0%

8.9%

Accommodation and food services

5.7%

3.7%

5.2%

Transport, postal and warehousing

5.0%

4.0%

4.7%

Information media and telecommunications

0.6%

0.5%

0.6%

Financial and insurance services

2.0%

1.4%

1.8%

Rental, hiring and real estate services

1.1%

0.5%

0.9%

Professional, scientific and technical services

3.4%

1.8%

3.0%

Administrative and support services

1.9%

1.2%

1.7%

Public administration and safety

6.6%

7.4%

6.8%

Education and training

8.1%

7.3%

7.9%

Health care and social assistance

8.1%

9.5%

8.5%

Arts and recreation services

0.3%

0.7%

0.4%

Other services

4.6%

2.5%

4.1%
Source data: National Regional Profile 2007–2011 (ABS, 2011)
LGA is local government area
The distribution of land uses in the subregion is shown in Figure 9, where it is possible to identify two distinct zones. East of Moree, scattered areas of grazing on modified pastures are interspersed through a predominantly cropping landscape. Around Goondiwindi and the more hilly areas of the east, grazing is more widespread than cropping. Both cattle and sheep grazing are undertaken. The eastern margins of the subregion and around Warialda include significant areas of minimal use lands and production forestry. To the west of Moree, cropping is still widespread, but grazing tends to occur on natural vegetation lands, particularly on land adjacent to the lower Gwydir and Gingham wetlands. Irrigated cotton is grown in this zone and is the dominant enterprise in the area. Cereal and oilseed crops are also grown.
Table 6 Land use areas in the Gwydir subregion



Land use

Area

(km2)

Percentage of subregion

(%)

Cropping

12,271.3

43.7%

Grazing natural vegetation

5,872.2

20.9%

Grazing modified pastures

4,069.5

14.5%

Irrigated cropping

2,147.5

7.6%

Conservation and natural environments

1,986.3

7.1%

Water

743.1

2.6%

Production forestry

397.9

1.4%

Residential, manufacturing, utilities, transport, services

330.8

1.2%

Land in transition

132.0

0.5%

Plantation forestry

126.8

0.5%

Irrigated horticulture

15.8

0.1%

Mining

6.8

0.0%

Horticulture

5.6

0.0%

Intensive production

3.2

0.0%

Grazing irrigated modified pastures

0.3

0.0%
Source data: ABARES (2012)
Small areas of nature conservation are found in the south-eastern corner adjoining the Namoi river basin and north-east of Warialda on the eastern margin of the subregion. The area around Moree is where most of the intensive land uses occur.
In late 2012, the NSW Government introduced its Strategic Regional Land Use Policy to protect valuable residential and agricultural land across the state from the impacts of mining and coal seam gas activity (NSW Government, 2014). Information was released in January 2014, identifying the areas of biophysical strategic agricultural land – land of high quality soil and water resources capable of supporting high levels of agricultural production – across NSW, which are deemed necessary to support the state's $12 billion per year agricultural industry. Other coal seam gas exclusion zones were also identified (Figure 10).
Figure 9 Land use mapping in the Gwydir subregion
Source data: Catchment scale land use mapping for Australia update November 2012 (CLUM Update 11/12) dataset, ABARES (2012)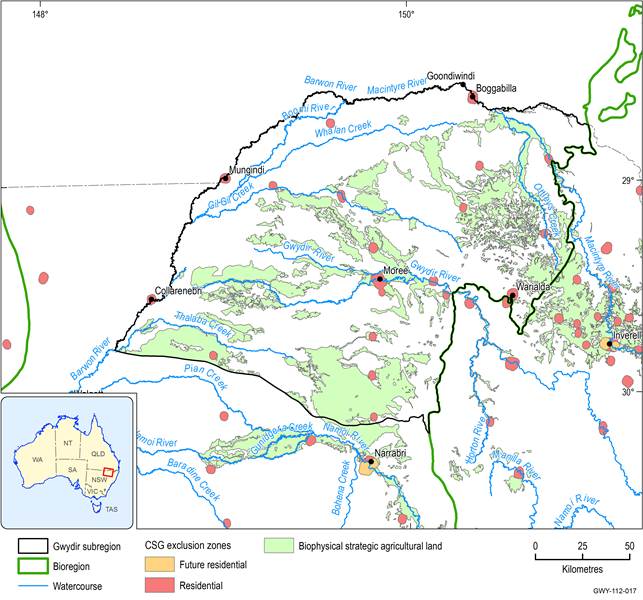 Figure 10 Coal seam gas exclusion zones in the Gwydir subregion
Source data: Strategic Agricultural Lands (NSW Government, 2013)
The subregion is part of the traditional lands of the Gomeroi people with a small part of the Bigambul people's lands along the Macintyre River. A number of significant Indigenous sites are located within the region, which under section 86(4) of the New South Wales National Parks and Wildlife Act 1974 (NPW Act) are protected from harm or desecration. Boobera Lagoon on the Macintyre floodplain is believed to be the resting place of Garriya, the rainbow serpent, who created the lagoon as well as the surrounding waterways. Boobera Lagoon was also the site of the final stages of a male initiation ceremony. The nearby Northcote Bora Ring was used by Indigenous people from the surrounding country for ceremonial purposes. South-east of Moree, Terry Hie Hie Corroboree Ground and Grinding Grooves was also an important ceremonial place, and is owned by the Moree Aboriginal Land Council (NSW OEH, 2013b). The NPW Act requires that the potential impacts of development on an Indigenous place be assessed.
Last updated:
5 January 2018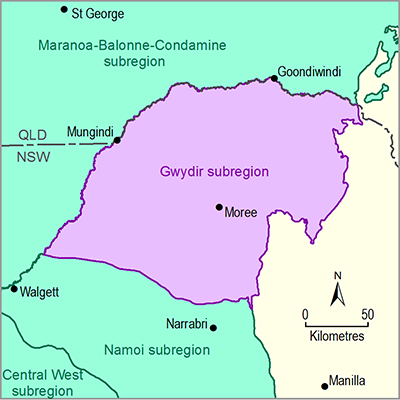 Product Finalisation date
ASSESSMENT