Mount Thorley–Warkworth (MTW) is an integrated operation of two adjacent open-cut mines, Mouth Thorley and Warkworth, 15 km south-west of Singleton in the Upper Hunter Valley (Rio Tinto, 2015c). Coal and Allied manages MTW on behalf of the joint venture partners Coal and Allied Industries Ltd (80%) and POSCO Australia Pty Ltd (20%).
MTW uses dragline truck and shovel methods. Nine hundred and twenty-seven employees (as at 31 December 2013) work in shifts to keep the mine operational 24 hours a day, 7 days a week. The facilities onsite include two CHPP (one for each mine), four tailings dams (two for each mine), administration buildings, stand pipe piezometers, and three tailing emplacements: Abbey Green South, Centre Ramp Tailings Storage Facility, and Tailings Dam 2 (Coal and Allied, 2014b, p. 17, p. 19, p. 86, p. 87). In January 2010 Coal and Allied proposed an extension of the approved Abbey Green North Pit by approximately 75 ha to the west. This extension enabled the extraction of approximately 5 Mt of additional ROM coal from the Mount Arthur, Warkworth and Bowfield coal members, which are already approved for extraction (EMGA, 2010, p. 5). Mount Thorley operates two pits, namely the Loders Pit and the Abbey Green South Pit, and Warkworth operates the North Pit, South Pit, Abbey Green North Pit and West Pit (EMGA, 2010, p. 21; Coal and Allied, 2014b, p. 36). Mount Thorley has been in operation since 1981, and after a business restructuring of the former owner, mining company R.W. Miller, Coal and Allied became managers of the mine in 1989. Coal and Allied manages Warkworth on behalf of the joint venture partners: CNA Warkworth Australasia Pty Ltd (26.82%), CNA Resources Ltd (28.75%), Mitsubishi Development Pty Ltd (28.9%), Nippon Steel Australia Pty Ltd (9.53%) and Mitsubishi Materials (Australia) Pty Ltd (6%). In 2013 Mount Thorley produced more than 2.3 Mt of thermal coal and 1.8 Mt of semi-soft coking coal and reported marketable reserves of 21 Mt as at 31 December 2013 (Rio Tinto, 2015c), with 150.3 Mt of total resources reported in the OZMIN database.
In 2013, Warkworth produced approximately 6.9 Mt of thermal coal and more than 1.2 Mt of semi-soft coking coal and had marketable reserves of 233 Mt as at 31 December 2013 (Rio Tinto, 2015d). Current resources and reserves for Warkworth of 846.2 Mt and 372 Mt, respectively, are reported in the OZMIN database.
In 2009 a preliminary environmental assessment was presented and later approved, which extends the current mine life (2021) to 2031. The proposal also includes: transferral and disposal of overburden from Warkworth to the Loders Pit at Mount Thorley following completion of coal extraction at Loders Pit; replacement of an ageing equipment fleet to allow for improved mining efficiencies, and the upgrading of some support infrastructure (Mitchell McLennan, 2009, p. 11). In 2012, the Warkworth Extension Project was approved. In April 2013 the Land and Environment Court (LEC) upheld an appeal to the planning approval for the Warkworth Extension Project.
An adaptive water management approach is implemented at MTW to: preferentially re-use poor quality mine water over clean water; minimise the use of fresh water; and protect clean water systems. This is achieved by (Coal and Allied, 2014b, p. 101):
using mine water for coal preparation and dust suppression
an emphasis on control of water quality and quantity at the source
segregating waters of different quality where practical; recycling on-site water
ongoing maintenance and review of the water management system
disposing of water to the environment in accordance with statutory requirements.
The primary post-mining rehabilitation objectives include (Coal and Allied, 2014b, p. 131):
recreating approximately 2114 ha of Endangered Ecological Community (EEC) woodland to a standard comparable to similar reference EEC communities
establishing approximately 305 ha of trees over grassland areas
recreating 928 ha grassland communities with a native component on the residual disturbed mining areas
establishing a network of tree corridors to ensure connectivity of woodland community areas
providing additional habitats for threatened species
creating an additional north/south wildlife corridor providing connectivity to other habitats.
Application for the Warkworth Continuation Project, which enables mining beyond 2017, was submitted in 2014 and is currently being assessed (NSW Department of Planning and Environment, 2014g, p. E.1–E.2).
Last updated:
18 January 2019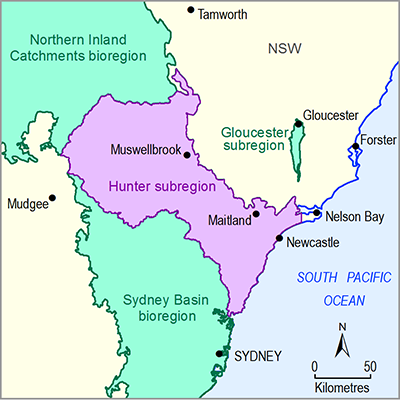 Product Finalisation date
ASSESSMENT