Breadcrumb
1.2.2.1.15 Hunter Valley Operations
Hunter Valley Operations (HVO), 24 km north-west of Singleton, is a multi-pit open-cut mining complex which uses dragline truck and shovel methods to extract thermal and semi-soft coking coal for sale to international markets (Rio Tinto, 2015b). The different pits and parts of the mine include (Coal and Allied, 2014a, p. 15; Rio Tinto, 2014a, p. 3; Rio Tinto, 2013):
West Pit (previously Howick Pit)
North Pit (previously Hunter Valley Number 1)
Carrington
South Pit (previously Lemington Pit and South Pit or Hunter Valley Number 2) incorporating Cheshunt and the former Lemington South Pit and the Riverview Pit
Mitchell (inactive)
Lemington South Pit (inactive)
Auckland (prospect)
Southern (prospect).
The mine area trends 20 km north-west to south-east and is 10 km wide, extending to a depth of 515 m below the topographic surface.
Coal production at HVO commenced in 1968 at the current West Pit, which was then part of Howick Coal Mine. The Hunter Valley No. 1 Mine began production in 1979. In 2000 Coal and Allied merged the Howick and Hunter Valley mines to create Hunter Valley Operations. The Lemington Mine, which began production in 1971, was acquired and merged into HVO in 2001. In March 2009 Coal and Allied received approval from the NSW Government to replace the multiple approvals under which HVO South operated with a single Project Approval valid for 21 years. The approval included extraction of a further 84 Mt of coal and upgrades to a range of infrastructure at the mine. In 2013 HVO produced more than 11 Mt of thermal coal and 2.6 Mt of semi-soft coking coal. HVO had marketable reserves of 277 Mt as of 31 December 2013.
The on-site facilities at HVO include an oil-water separator plant and drainage to the dirt water dam, three CHPPs with different storage facilities for processed (saleable) and unprocessed (ROM) coal, water storage and tailings facilities, sewage treatment and disposal facilities, a fuel storage system, and conveyor system (Coal and Allied, 2014a, p. 38, p. 96, p. 104).
HVO manages water according to three main objectives: fresh water usage is minimised, impacts on the environment and HVO neighbours are minimised, and interference to mining production is minimised. This is achieved by minimising freshwater use from the Hunter River, preferentially using mine water for coal preparation and dust suppression by (Rio Tinto, 2014b, p. 17):
an emphasis on control of water quality and quantity at the source
segregating waters of different quality where practical
recycling on-site water
ongoing maintenance and review of the system
disposing of water to the environment in accordance with statutes and regulations.
Coal and Allied operates a ground disturbance permit process, which is activated prior to any vegetation removal, topsoil stripping or clearing on the mine site. The ground disturbance permit (GDP) follows a systematic process, which ensures that a range of environmental conditions and licences are checked for the specific area to be cleared, and for the identification of any potential environmental issues such as drainage issues, threatened species, and the identification of any seed or timber resources that may be salvaged (Coal and Allied, 2014a, p. 166). A total of 199.5 ha of mined land was rehabilitated in 2013. Rehabilitation quality improvements were achieved through the use of mixed waste compost to improve soil fertility, direct drilling of seed, and setting up seed harvesting areas to facilitate use of locally sourced seed (Coal and Allied, 2014, p. 4).
Howick/West Pit
In 2000 the Howick Coal Mine became part of Rio Tinto's Hunter Valley Operations as a result of the merger with Hunter Valley Mines. The Howick Coal Mine is 24 km north-west of Singleton in the Upper Hunter Valley. It is owned by Coal and Allied, a fully owned subsidiary of Rio Tinto Coal Australia. Coal production began at HVO in 1968 at the West Pit which, at the time, was part of the Howick Coal Mine (Rio Tinto, 2015b).
In 2003 an EIS was prepared to allow for the expansion of the HVO West Pit to the east of the then current mine operation, and the consolidation of 18 development consents for HVO North (West Pit Extension and Minor Modification Environmental Impact Statement, 2003). Development Consent (DA-450-10-2003) was granted by the NSW Department of Infrastructure, Planning and Natural Resources (DIPNR) on 12 June 2004. The consent has twice been modified (AECOM, 2011a, p. 9): on 16 August 2005 to enable minor changes to the Hunter Valley Load Point, and on 25 June 2006 to allow for the extension of the Carrington Pit, which is supported by the Carrington Pit Extended Statement of Environmental Effects (SEE) (ERM, 2005). Licences related to Howick Coal Mine are Environmental Protection License (EPL) 640 and Mining Lease (ML) 1560 (AECOM, 2011a, p. 13).
Last updated:
18 January 2019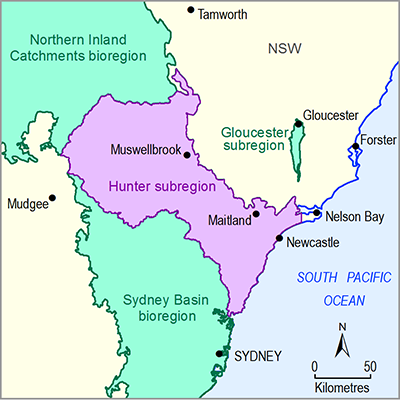 Product Finalisation date
ASSESSMENT