GHD (2012) Report for QWC 17-10 Surat Basin groundwater modelling: Stage 2 Surat Cumulative Management Area Groundwater Model Report. GHD Pty Ltd report to Queensland Water Commission.
Hillier J (2010) Groundwater connections between the Walloon Coal Measures and the Alluvium of the Condamine River – Report prepared for the Central Downs Irrigators Limited, dated August 2010.
Moore CR, Doherty J, Howell S and Erriah L (2014) Some challenges posed by coal bed methane regional assessment modeling. Groundwater 53(5):737-47. DOI: 10.1111/gwat.12276.
OGIA (2014) Annual Report 2014 for the Surat Underground Water Impact Report. Office of Groundwater Impact Assessment. Viewed 24 March 2014, https://www.dnrm.qld.gov.au/__data/assets/pdf_file/0012/251310/surat-uwir-annual-report-2014.pdf.
Peeters L, Pagendam D, Gao L, Hosack G, Jiang W and Henderson B (2016) Propagating uncertainty through models. Submethodology M09 from the Bioregional Assessment Technical Programme. Department of the Environment and Energy, Bureau of Meteorology, CSIRO and Geoscience Australia, Australia. http://data.bioregionalassessments.gov.au/submethodology/M09.
QWC (2012) Underground Water Impact Report for the Surat Cumulative Management Area, Queensland Water Commission. Viewed 24 March 2014, https://www.dnrm.qld.gov.au/__data/assets/pdf_file/0016/31327/underground-water-impact-report.pdf.
Tonkin M and Doherty J (2009) Calibration‐constrained Monte Carlo analysis of highly parameterized models using subspace techniques. Water Resources Research, 45, W00B10, DOI: 10.1029/2007WR006678.
WaterMark Numerical Computing (2012) Predictive Uncertainty of the Regional-Scale Groundwater Flow Model for the Surat Cumulative Management Area. Prepared by WaterMark Numerical Computing for the Queensland Water Commission Draft May 2012.
Last updated:
17 October 2018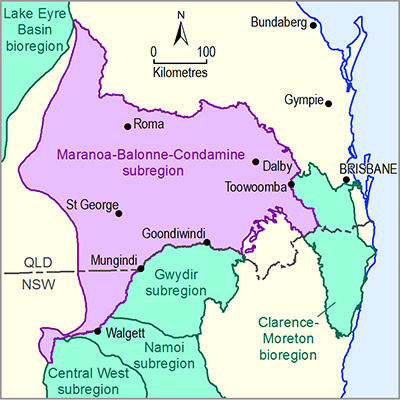 Product Finalisation date
ASSESSMENT