Australasian Groundwater and Environmental Consultants Pty Ltd (2013) Mt Arthur Coal Open Cut modification – Appendix B – Groundwater Impact Assessment. Sydney.
Biswas F (2010) Hydrology of the Upper Hunter Catchment. PhD Thesis, Australian National University. Viewed 10 June 2014, https://digitalcollections.anu.edu.au/handle/1885/8760.
DPI (2009) Water Sharing Plan for the Hunter Unregulated and Alluvial Water Sources. In: Department of Primary Industries (ed.). NSW Government, Sydney.
DPI (2013) Upper Hunter Region agricultural profile. In: Department of Primary Industries (ed.). Factsheet No.1. NSW Government, Sydney.
DWE (2009) Water sharing rules – Hunter Regulated River Alluvial Water Source. In: Commenced water sharing plan for the Hunter unregulated and alluvial water sources, Department of Water and Energy, NSW Government, Sydney, http://www.water.nsw.gov.au/ArticleDocuments/34/wsp_hunter_rules_summary_hunter_regulated_river_alluvial.pdf.aspx.
EPA (2013) Hunter Catchment salinity assessment: final report. Report prepared by Office of Environment and Heritage for the NSW Environmental Protection Agency, Sydney, Australia, 60 pp.
Heritage Computing P/L (2012) North Wambo Underground Mine modification. Appendix B: groundwater assessment. Report prepared for Wambo Coal Pty Ltd, HC2012/13, 57 pp.
Kellett JR, Williams BG and Ward JK (1989) Hydrogeochemistry of the upper Hunter River valley, New South Wales. Bureau of Mineral Resources, Sydney. Viewed 27 August 2014, http://www.ga.gov.au/corporate_data/25/Bull_221.pdf.
NSW Department of Planning (2005) Coal mining potential in the Upper Hunter Valley – strategic assessment. In: Planning DoP (ed.). NSW Government, Sydney.
Worley Parsons (2009) Bickham Mine Project, Scone, assessment of water resource management issues. Report prepared for Upper Hunter Progress Association, Sydney, Australia, 19 pp.
Last updated:
18 January 2019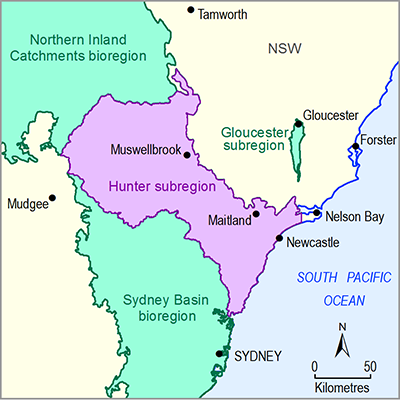 Product Finalisation date
ASSESSMENT