The major aquifers of the Maranoa-Balonne-Condamine subregion are associated with the:
antecedent systems that form paleochannel infill and broad alluvial cover over much of the subregion
fractured rock aquifers within the Main Range Volcanics
sedimentary rocks of the GAB
major rivers (i.e. the Condamine, Balonne, Dumaresq and Macintyre rivers).
A detailed description of the key aquifer systems is in Section 1.1.4 of companion product 1.1 for the Maranoa-Balonne-Condamine subregion (Welsh et al., 2014). The temporal sequence of geological units and relative groundwater flow potential are identified in a summary of hydrostratigraphic relationships (Figure 9) (Ransley and Smerdon, 2012).
Figure 9 Hydrostratigraphic relationships in the Clarence-Moreton Basin, Surat Basin, Coonamble Embayment and adjoining Eromanga Basin of the Great Artesian Basin
Gp = Group, Fm = Formation, Mbr = Member, Sltst = Siltstone, Sst = Sandstone
Source: Ransley and Smerdon (2012)
Last updated:
16 October 2018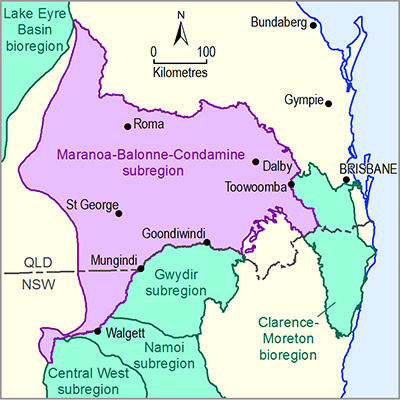 Product Finalisation date
ASSESSMENT