The Hunter Central Rivers Catchment Management Authority (CMA) supplied asset data covering the entire CMA which includes the Gloucester subregion – note that from 1 January 2014, in NSW CMAs have transitioned into local land services (LLS) regions. However, as this CMA operated within the Gloucester subregion when it was defined in 2012, these data have continued to be used. These data (equivalent to 'elements') were loaded into the asset database – only 27 of these overlapped or were within the PAE; most in the ecological group of assets.
Additionally, data were obtained from a number of Australian Government sources (Table 3). Some of the elements sourced from the Australian Government duplicated elements provided by the Hunter Central Rivers CMA. Other sources, including the list of Australian Ramsar wetlands (Department of the Environment, 2014), were considered but found to not include any elements that were within or overlapped with the PAE.
Table 3 Australian Government data sources for assets in the Gloucester subregion
aFull descriptions and citations of data sources will be published in the metadata for each subregional asset database.
Italics indicate the formal dataset name.
Last updated:
28 September 2018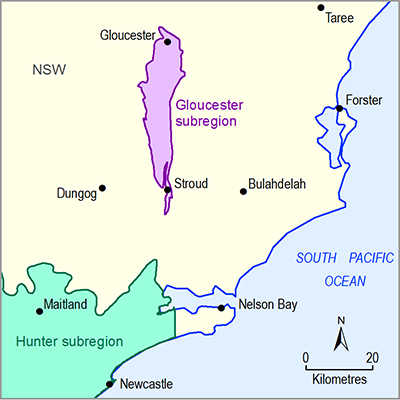 Product Finalisation date
ASSESSMENT